Topics: Medical Billing, Practice Management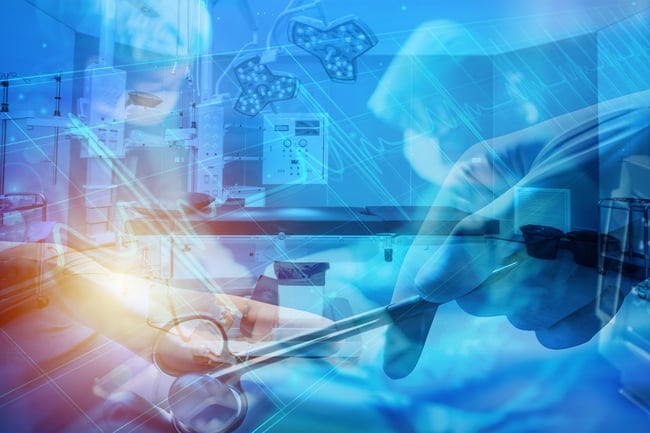 There are hundreds of pages of regulations and updated legislation for medical billing - not to mention, thousands of nuanced billing codes! Navigating the ins and outs of one particular focus of billing is challenging enough, but what about other types of billing? Keep reading to learn the differences between standard physician medical billing and ambulatory surgery center billing and coding, plus get the latest version of ASC coding guidelines!
Quick Links:
What is an Ambulatory Surgery Center?
An Ambulatory Surgery Center (ASC) is a facility that specializes in outpatient procedures; this might include surgeries or various pain management or diagnostic procedures, such as colonoscopies. Generally, the procedures done at an ASC are more extensive than those done at the typical provider's office, but are not so involved that they require a hospital stay.
This is different from hospitals, which provide care for any reason, whether outpatient, inpatient, or emergent. ASCs also differ from physician's offices, which may perform only minor surgical procedures, such as removal of foreign bodies, drainages, or abscesses. An ASC is simply an entity that exists separate from any other facility and operates for the sole purpose of providing outpatient surgical procedures to patients.
Medicare Criteria for Ambulatory Surgery Centers
According to Medicare, a facility must meet certain criteria to be qualified as an Ambulatory Surgery Center:
The ASC must enter into an agreement with CMS. This agreement shows that the ASC is willing to abide by CMS rules and regulations and provide specific types of services to their patients.
An ASC can either be independent of any other facility or can be affiliated with a larger hospital or facility. If the ASC is affiliated with a hospital, it must meet additional criteria to be reimbursed at the ASC pay rates.
Lastly, each and every ASC that bills Medicare must be certified through a state-specific agency. This certification, along with all of the above requirements, makes sure the ASC will receive the highest rate of reimbursement. It also assures the patient that they're receiving care from a qualified, certified agency.


Differences Between Physician Medical Billing with ASC Coding and Billing
ASC billing is quite different from either regular physician billing or facility billing. Unlike physician medical billing, which requires adherence to a few highly specialized guidelines in order to get reimbursed, ASC coding and billing isn't centered on a specific medical specialty. Since ASCs essentially involve every medical specialty in one place, its coding system doesn't revolve around specific types of services, procedures, or diagnoses.
This doesn't mean that to be an ASC biller you have to learn an entirely new set of codes or billing techniques, though. ASC billing uses all of the same codes, billing techniques, and many of the same billing and coding guidelines by the entire medical industry. However, what makes ambulatory surgery center coding and billing so different is that it's like billing hospital codes through a CMS-1500 claim form, which is not a facility claim form.
Another catch is that ASCs can only provide services to those who already have a diagnosis from a primary care physician, and who need medically necessary procedures performed; this is crucial for ASCs to get reimbursed. However, the medically necessary procedure doesn't have to be performed at an ASC - that decision is up to both the provider and the patient.
Current ASC Coding Guidelines
In July 2020, the CMS released an update of the Ambulatory Surgical Center payment system; those highlights are as follows:
New CPT category III codes, an extensive table of which can be found on the CMS site here
Replacement codes for Hemodialysis Arteriovenous Fistula (AVF) procedures to account for two separate new technology applications received for hemodialysis arteriovenous fistula creation; CMS is deleting HCPCS codes C9754 and C9755 since they will be respectively replaced with HCPCS codes G2170 and G2171
Establishing two new codes to describe the technology associated with strain-encoded cardiac MRI; specifically, CMS is establishing HCPCS codes C9762 and C9763 to describe the strain imaging and stress imaging associated with strain-encoded cardiac MRI.
Creating a new device pass-through code HCPCS C1748 for an endoscope, single-use (i.e. disposable), upper gi, imaging/illumination device (insertable)
18 new HCPCS codes have been created for reporting drugs and biologicals in the ASC setting, where there have not previously been specific codes available
The payment for skin substitute products that do not qualify for hospital OPPS pass-through status are packaged into the OPPS payment for the associated skin substitute application procedures
The document provided by the CMS includes detailed tables of organized information for the various coding changes they have updated.
Improve Your ASC Medical Billing With NCG Medical!
Comprehending significant legislation changes to medical billing regulations can be overwhelming for your medical billing team to effectively learn and implement! Partnering with a reputable medical billing service is one of the fastest and easiest ways to automatically incorporate new rules into your billing management. Outsourcing your medical billing process over to a third party also frees up time for office staff to focus on providing the best service and care possible. Instead of spending hours on the phones trying to collect outstanding payments, a medical billing company can focus on expanding the practice's patient base and improving the practice's healthcare experience to better retain the patients it already has.
NCG Medical has four decades of experience with handling coding and billing issues for a variety of healthcare practices, including ambulatory surgery centers. We understand that each practice is unique and requires a customized solution that aligns with its long-term goals. That's why we work closely with our clients to help them set up the medical billing services and solutions that meet their specific needs and allows them to deliver the best care possible. To find out what we can do for your practice, contact our team today for a consultation.