Doctors who buy Perfect Care EHR can pay for the program with their first incentive check.
Orlando, Fla. – (April 9, 2012) – Perfect Care EHR has a proven track record of solving the complexities of the new electronic health record guidelines set by the government.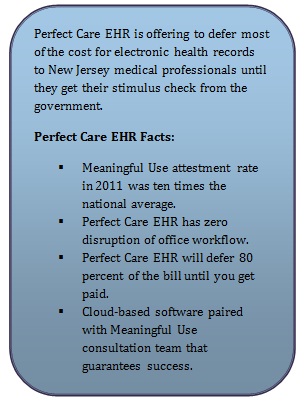 Now Perfect Care EHR is ready to put its money where its mouth is, and solve any cash flow concerns that doctors might have with the new technology. Perfect Care EHR is deferring 80 percent of the costs of its industry-leading, cloud-based electronic health record solution until medical professionals receive their first stimulus check from the federal government.

Perfect Care EHR pairs its simple-to-use electronic health record platform with complimentary Meaningful Use consultants that literally guarantee doctors will qualify for Meaningful Use and receive up to $18,000 this year in incentive money.

Perfect Care EHR has stripped away the confusion that made so many other programs ineffective. In the first year of the incentive program, the Perfect Care EHR attestment rate was ten times higher than the national average – and it continues to climb this year.

The Perfect Care EHR promotion will guarantee a positive return on investment for participating physicians. NCG Medical does not make any profit until the doctor profits.

To qualify for the 80 percent deferment in costs, participants must sign up for Perfect Care EHR by April 30, 2012.

Success stories:
"Medicare has mandated the EHR to be implemented into the medical field, whether we like it or not. NCG and Perfect Care made the transition with ease in our office. We had no delay in productivity during the transition, and within a week we were all able to maneuver through the system with ease. The NCG support team guided us through the attestation process, and we are awaiting our incentive checks four months after installation! "
- Candace Sandow-Kaiser, Novik + Stawicki Medical Associates, P.C. in Trenton N.J.
"I wanted to take this opportunity to thank you for introducing us to NCG Medical and the Perfect Care EMR system. The new system was easy to install without having to retrain the staff on a new system. Your staff has been amazing with the implementation, right up to the point of attestation for the incentive check, which, by the way, we received. As promised, we received $18,000 per doctor for five providers within 90 days."
- Jan L. Delnero, Atlantic Gastroenterology Associates, P.A. in Township, N.J.

To learn more about Perfect Care EHR, visit http://www.ncgmedical.com/products or call 800-959-1906.


About NCG Medical (http://www.ncgmedical.com/)
NCG Medical is a global leader in integrated health information technology solutions for ambulatory medical practices and regional extension centers. Based out of Orlando, Fla., NCG Medical is a pioneer of electronic health records. Physicians and medical institutions turn to NCG Medical for solutions in practice management, electronic health records, and medical billing. NCG Medical is ranked among the top three providers of practice management software, Electronic Medical Records (EMR), Electronic Health Records (EHR) Systems technology, and billing nationwide. To learn more, visit NCG Medical at www.ncgmedical.com.
Media Contact
Will Wellons
Office: 407.339.0879
Cell: 407.462.2718
will@wellonscommunications.com